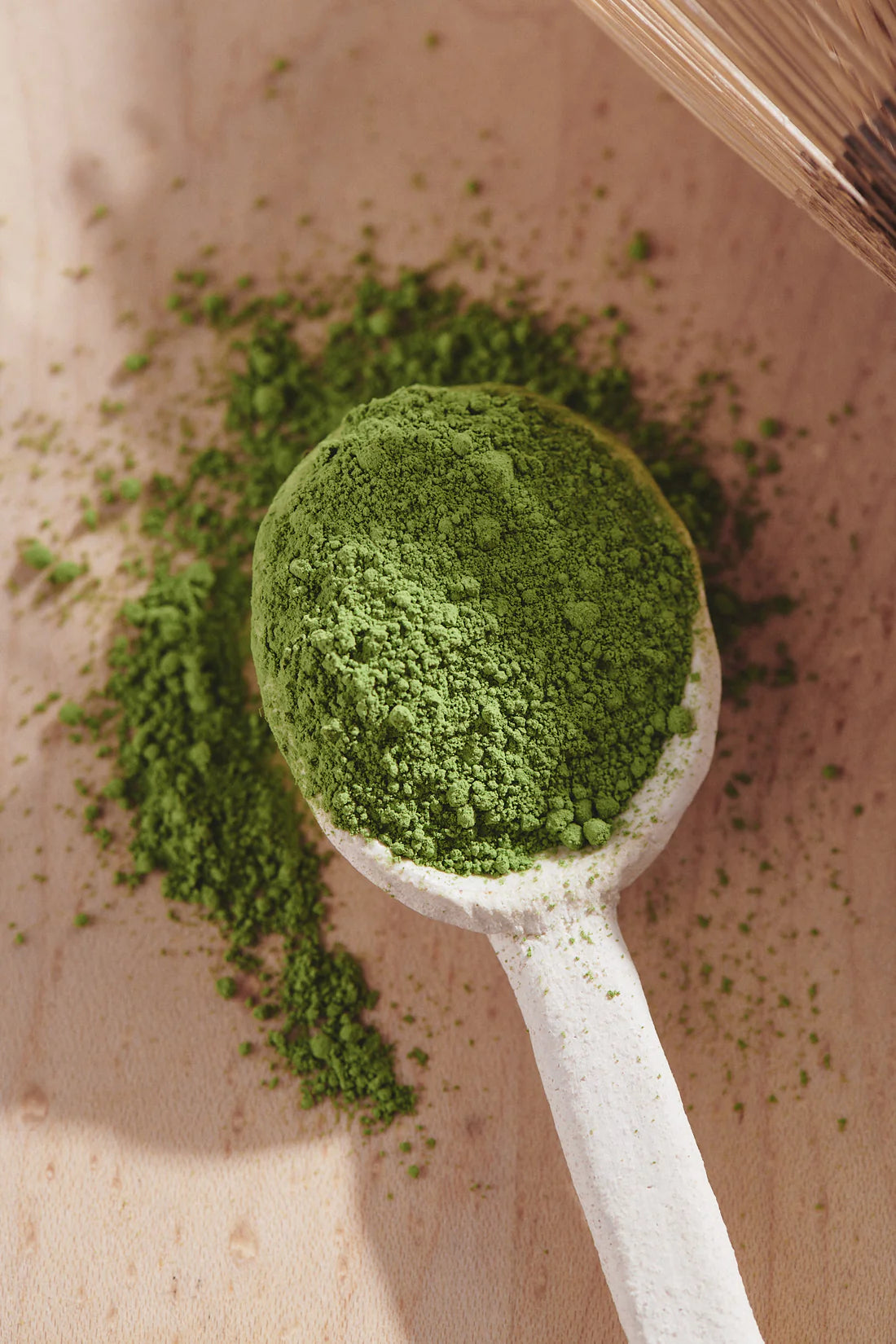 Morning Ritual Ground Matcha Refill
I've spent more than 10 years searching the world high and low to find the best quality matcha to share with you. When I discovered Morning Ritual at an organic farm outside of Kyoto, I knew I'd met my matcha!
Morning Ritual Matcha is the highest quality, ceremonial Grade A stoneground koicha matcha, grown in the shade to preserve its sweetness, vibrant color, and potent nutrients. The superfine, silky-smooth powder creates a light foam and perfect froth every time. There's zero bitterness: just a sweet, earthy aroma and a full-bodied, rich flavor. 
There are so many reasons I love this matcha. It gives me sustained energy throughout the day with no jitters, heartburn, or crashes. It's loaded with powerful antioxidants and helps my skin stay clear and bright. As a ceremonial-grade matcha, it's thick and full-bodied, pure green bliss. Whisking it to release its bright color, concentrated aroma, and rich flavor is my favorite form of meditation. I'm so excited to share it with you and invite you to join me in my morning tea ritual, one of the best parts of my day.
REDUCE. REUSE. REPLENISH.
Save your new tin and subscribe to get just refills of matcha (without the tin), for a more sustainable start to your day.

**This is not a​ ​set.​ ​Other items in the photo are not included.​ **
Net weight: 30g (1.06oz). 30 servings per tin
**Items can only be returned 30 days after the purchase date, unopened.**
**For international orders, duties are not included. Buyer is responsible for paying duties depending on your country of residence.**
We've all struggled with finding a balance in our eating. My own journey from junk food to real food has made me passionate about nature's power to nourish and heal us. Shayna's Kitchen has grown out of that passion. Every day, I search the world for the best nature has to offer. The small-batch, sustainable products we're creating for you here are made with the love of local farmhands and artisans who are dedicated to sharing their best with you. Together, we're building a more conscientious community of food lovers, and are so excited to invite you to be a part of it.
At Shayna's Kitchen, we believe:
FOOD IS MEDICINE
Food has the power to heal and nourish us and help us be our best selves. This isn't about fad diets or deprivation. It's about preparation and intention: choosing the best ingredients, eating intuitively, and empowering ourselves to make healthy choices. The energy and joy we put into our food helps us reconnect with our bodies and set ourselves up for success. 
BASICS CAN BE ANYTHING BUT
The building blocks of better health start with essentials that are anything but basic: the highest-quality, cold-pressed olive oil harvested from wild olives, or Japanese matcha grown in the shade for the greatest sweetness. Choosing the best ingredients every day is one small way we can make a big impact on the quality of our lives.
SUSTAINABILITY STARTS WITH US
It's not as hard as we might think to make choices that are good for us and for the planet. Ingredients that are sustainably grown and packaged are better all around: nourishing the soil that trees and plants grow in and caring with intention for the food we create, so it's always at its most nutrient-dense, flavorful, and healthy (because sustainability is also about sustenance).
HEALTH IS AN INVESTMENT
Shopping for organic, fresh veggies and proteins and choosing non-toxic cookware and kitchen supplies that inspire us to cook beautiful, balanced meals are just some of the ways we can be sure we're doing the best for our well-being. The costs to our energy and overall health are so obvious when we don't.