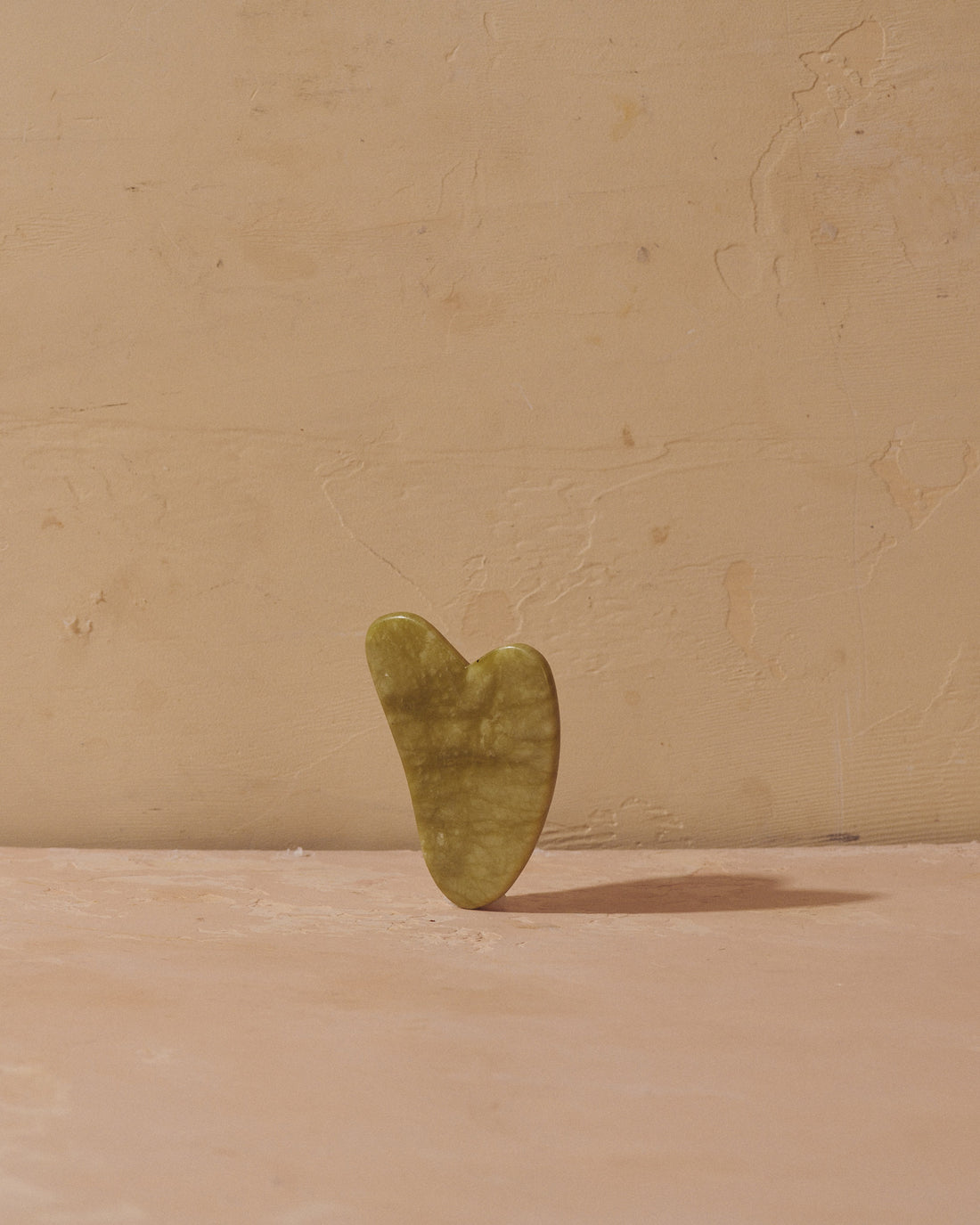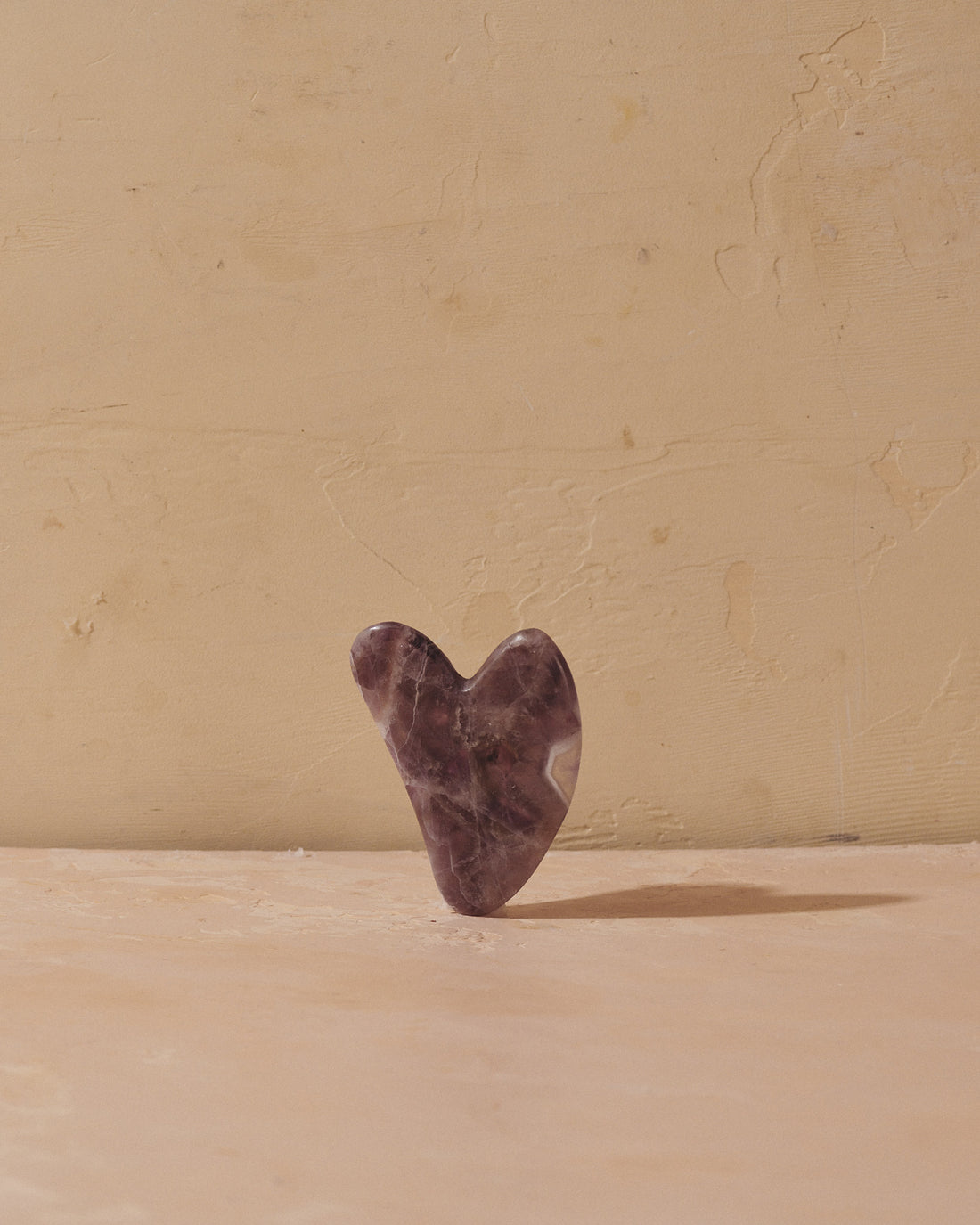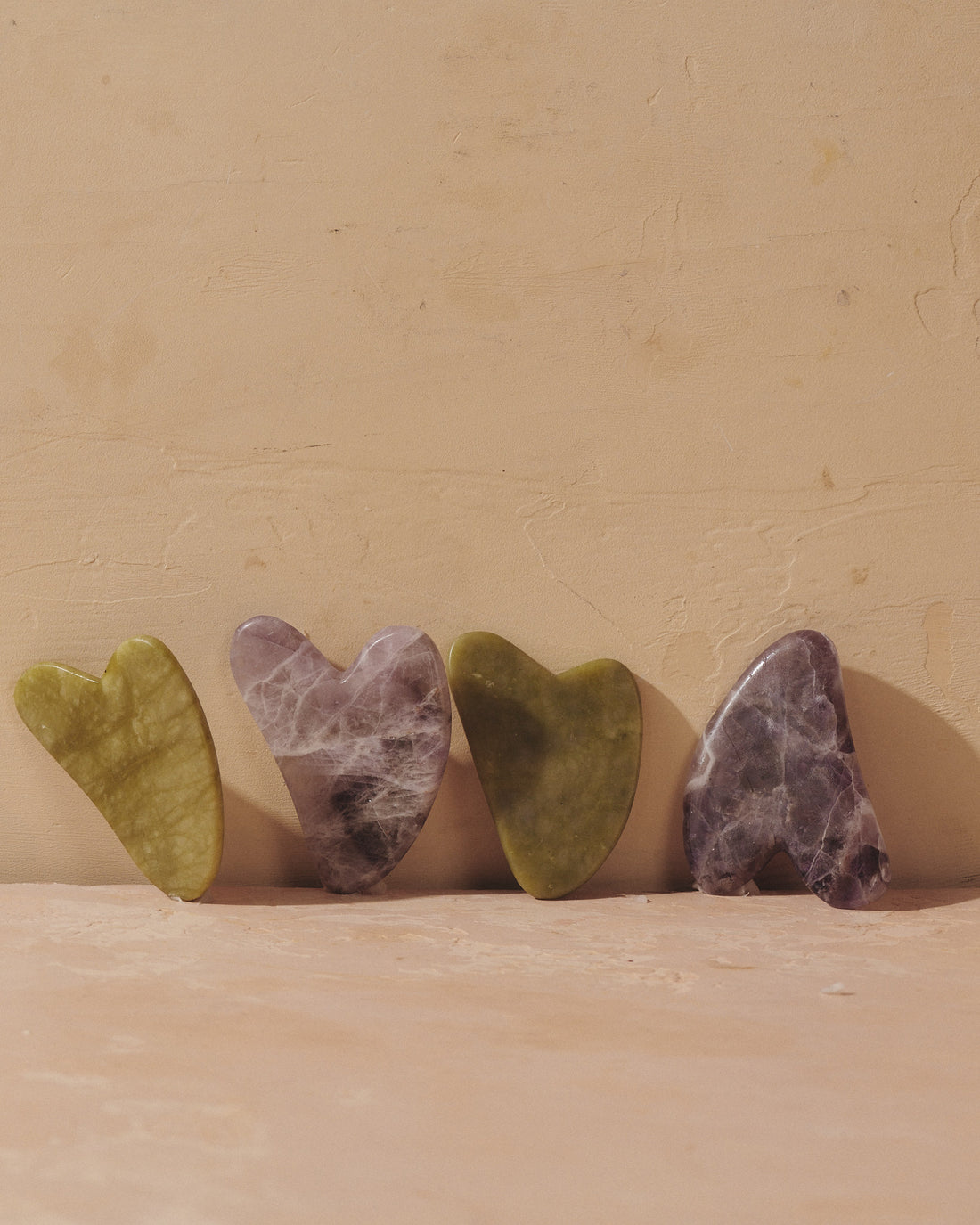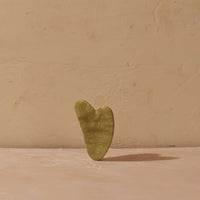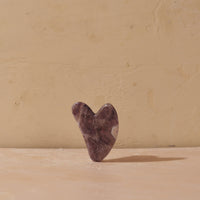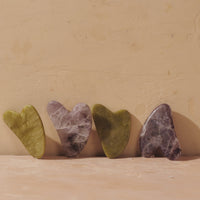 Winding down at the end of my day, I can feel the stress I've been carrying in my body. I can also see it on my face, in clenched jaws and furrowed brows. Fine lines are never far behind.
A couple of years ago, I was traveling with a friend when she introduced me to Gua Sha, the traditional Chinese technique of facial massage. For thousands of years, people have used Gua Sha to relieve tension in the muscles of the face, boost circulation, and encourage lymphatic drainage. Applying gentle pressure as I sweep the curved, smooth stone along my neck, jawline, cheekbones, and brow helps reduce puffiness and minimize wrinkles. It's amazing to see fine lines melt away and it always leaves me with softer skin and a natural glow. 
Each stone is unique (no two are alike, just like us!) and they each have different properties. Jade is a natural detoxifier, so I use the Green Jade Gua Sha to improve the flow of energy and soothe and relax my muscles. Amethyst reduces stress and opens up the chakras; I always feel peaceful and balanced after using my Amethyst Gua Sha.

There are so many good ways to destress at the end of the day (like turning the lights down low, meditating, and snuggling with my dogs), but Gua Sha instantly relaxes me and centers me in my body like nothing else. I use it at night, but recently also started adding Gua Sha to my morning routine, to help me start the day feeling my best. It's now an essential part of my everyday skincare routine, but it's more than skincare: it's self-care, and I can't wait for you to experience it.
*Handmade in Green Jade or Amethyst 
*Relieves tension & reduces inflammation
*Tones & firms skin
We've all struggled with finding a balance in our eating. My own journey from junk food to real food has made me passionate about nature's power to nourish and heal us. Shayna's Kitchen has grown out of that passion. Every day, I search the world for the best nature has to offer. The small-batch, sustainable products we're creating for you here are made with the love of local farmhands and artisans who are dedicated to sharing their best with you. Together, we're building a more conscientious community of food lovers, and are so excited to invite you to be a part of it.
At Shayna's Kitchen, we believe:
FOOD IS MEDICINE
Food has the power to heal and nourish us and help us be our best selves. This isn't about fad diets or deprivation. It's about preparation and intention: choosing the best ingredients, eating intuitively, and empowering ourselves to make healthy choices. The energy and joy we put into our food helps us reconnect with our bodies and set ourselves up for success. 
BASICS CAN BE ANYTHING BUT
The building blocks of better health start with essentials that are anything but basic: the highest-quality, cold-pressed olive oil harvested from wild olives, or Japanese matcha grown in the shade for the greatest sweetness. Choosing the best ingredients every day is one small way we can make a big impact on the quality of our lives.
SUSTAINABILITY STARTS WITH US
It's not as hard as we might think to make choices that are good for us and for the planet. Ingredients that are sustainably grown and packaged are better all around: nourishing the soil that trees and plants grow in and caring with intention for the food we create, so it's always at its most nutrient-dense, flavorful, and healthy (because sustainability is also about sustenance).
HEALTH IS AN INVESTMENT
Shopping for organic, fresh veggies and proteins and choosing non-toxic cookware and kitchen supplies that inspire us to cook beautiful, balanced meals are just some of the ways we can be sure we're doing the best for our well-being. The costs to our energy and overall health are so obvious when we don't.